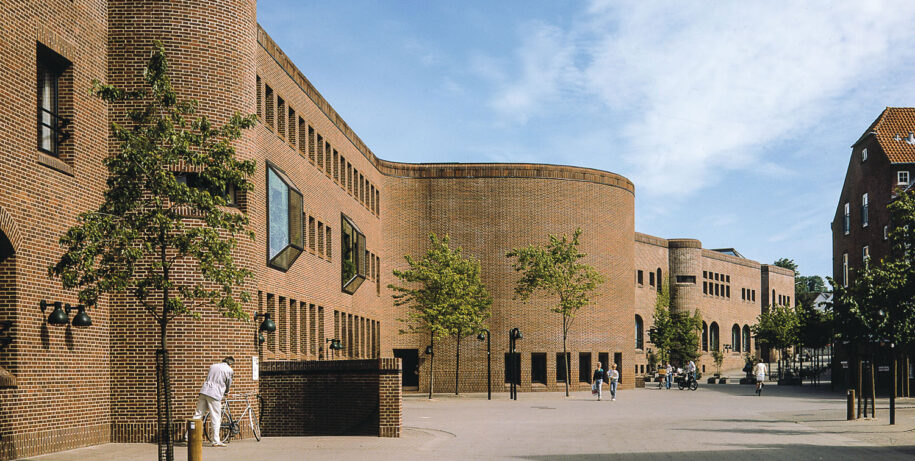 Holstebro Rådhus og Bibliotek er projekteret efter 1. præmie i arkitekt-konkurrence 1977.
Vinderprojektet består af to kvadratiske bygninger forbundet med en fælles forhal, så de to institutioner udgjorde en helhed, et færdigt formet byelement. Bygningen er opført i murværk med dybe vindueshuller og fremspringende halvrunde trappetårne, som forstærker massiviteten.
Den store bibliotekssal dannes af de fire fløje, som indeholder bibliotekets øvrige funktioner, børnebibliotek, tidsskriftlæsesal, studierum, mødesale, musikbibliotek og kontorer. Bibliotekssalen er som et stort torv. De omgivende fløje har eksteriør facader mod salen. Ovenlyset, der er lagt langs disse facader, fremhæver teksturen i det robuste murværk.
Forbindelsesbygningen, der danner forhal til både bibliotek og rådhus, er bygget samtidig med rådhuset. Med sit store ovenlys og generøse trappeanlæg har forhallen karakter som et lille overdækket torv.
Rådhuset er som biblioteket i princippet en firefløjet bygning, men her er kun en lille del af gårdrummet overdækket. Denne del udgør med sin glasvæg mod gårdhaven en lys forhal. Sammen med den fælles indgangshal er rådhusets forhal og bibliotekssalen bemærkelsesværdige rum. Byrådssalen er med sin enkle geometriske form og de gedigne detaljer et smukt og kraftfuldt rum. Rådhusets eksteriør er en fortsættelse af biblioteket, men dog med en accentuering af bygningens samfundsmæssige placering.
Uddrag af "Arkitekten", af Poul Erik Skriver
FAKTA
Type: Byrum, Offentligt byggeri, Rådhus og bibliotek
Adresse: Kirkestræde 15, Holstebro
Udført: 1981-1986
Bygherre: Holstebro Kommune
Arkitekt: Dall & Lindhardtsen A/S
Ingeniør: Carl Bro